Hail the teenage girls, the tastemakers, the ones keeping the lights on in almost every industry and genre. (Note: The second part of this recap will be posted next week.)
This recap is a guest post by Claire Parnell. Claire is a literature x digital media academic currently teaching at the University of Melbourne. Her research focuses on pop culture, genre fiction (Romance, mainly) and digital publishing. It's definitely not an excuse to just read romance, watch Netflix and tweet all the time. @cparnell_c
Photo credits: Claire Parnell
The Fan Fiction panel was held on Sunday 18 June as part of the National Writers Conference and the Emerging Writers Festival. It was in the afternoon of the second day of the conference. I was tired and hungry, but for all the fluffy pillows and burgers in the world, I was not missing this discussion.
Danielle Binks, C.B. Mako and Jes Layton sat down in front of a room full of eager writers to discuss prequels, sequels and parallel universes for their favourite texts. We also unofficially played bingo for fan fiction synonyms.
For those of you who want to play along at home, here's my rudimentary Fan Fiction Synonyms-and-Examples-of-the-People-Who-Write-Them Bingo Card:
From ancient myths to Disney and the Brothers Grimm, fanfic – and all its incarnations – has been around for a long time. It has come to the forefront and into the mainstream, Jes Layton [ T | F | W ] points out, due to the interconnectedness of the internet as well as the popularity of sites and apps like Wattpad and Kindle Worlds.
As panellist, fanfic writer and illustrator CB Mako [ T | I | W ] describes it, discovering fanfic is like 'being drawn into a vortex of awesomeness.'
For authors, both emerging and bestselling, emerging and established, digital and print, fanfic is not that uncommon either. Anna Todd with The After Series [ BT | Amz ] and E.L. James with Fifty Shades of Grey [ review ] both built their writing careers on the backbone of fanfic (One Direction and Twilight [ review ] respectively). There's P.D. James's tribute to Jane Austen with Death Comes to Pemberley [ BT | Amz | iT ].  And James Patterson, who, as Binks points out, is the centre of his own fanfic maelstrom.
This is far from intended as a nihilistic diatribe of but nothing's original anymore so what's the point. Quite the opposite, really; it's practically a love letter to fan fiction.
As Danielle Binks [ T | I | W ] put it, fanfic is 'acknowledging that texts make you… you don't exist in a vacuum. You are a product of the stories you consume.'
Every creative industry is built on what came before it and fanfic is the greatest tribute to that and I don't know why we don't acknowledge it more.
Binks cites Lin-Manuel Miranda's musical Hamilton, which is essentially a fanfic pastiche of texts, inspired by the life of a real man. In the book Hamilton, The Revolution [ BT | Amz | iT ], Miranda unabashedly footnotes all of his influencers from hip-hop R&B, pop, and theatre.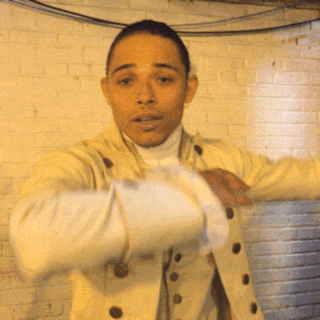 But if this is all that fanfic is at its core, why do writers, especially readers and writers of Literature with a capital L, look down on it so much?
This awesome panel listed a few possible answers. One of which is that for writers of capital L-Literature, it means acknowledging that the whole my characters just came to me thing they say on panels or interviews or wherever is total 'bullshit'.
It means acknowledging that characters originally belonging to other writers and creators might, god forbid, inspire your own characters. That they are not 100%, thought up in your own head, from the depths of your imagination, original.
For writers who make their living on what they can come up with and pen to paper, this can understandably be a lot to acknowledge.
For romance readers, it's something we hear on romance panels quite a lot, and one of the many, many, MANY great things about them. As Binks notes, romance authors acknowledge the writers that influenced them, the ones they grew up reading. Georgette Heyer [ BT | Amz ] generally gets at least one mention, at least to the panels I've been to.
In romance, it's also known and accepted that authors get there by writing fanfic. The authors I mentioned above – Todd and James – are just two examples.
Like romance, Binks conveyed, fanfic is a matriarchy. Like romance, it's predominantly 'women writing women for women'. This is possibly (probably, almost definitely) another reason why it's so criticised; it's about the creative expression of girls.
Hail the teenage girls, the tastemakers, the ones keeping the lights on in almost every industry and genre.
If you doubt me, just ask Harry Styles.
It was a panel that was as considerate as it was critical, as inspiring as it was impassioned. I went away thinking of all my favourite books, movies, TV shows, paintings, comics and wondering how I might add to the grand narrative around each.
At the beginning of the panel, Binks told the audience that she started writing generally, and writing fanfic specifically, at the end of Season 3 of Dawson's Creek [ Amz | iT ] with [SPOILER] the heart-pounding, swoon-inducing Sailing Away for the Summer Because Love scene with Pacey and Joey.
FYI: Danielle also inspired a Twitter thread developing The Best Ever Dawson's Creek Vampire Crossover Fanfic (if I do say so myself) by Jodi McAlister, Rudi Bremer and myself. Yet to be titled (and actually written). It goes to show the collaborative, community-driven creation, inspired by a love of media, and particularly pop culture, that underpins fan fiction.
Dawson could be a vampire because he's already an emotional vampire. @danielle_binks on Dawson's Creek crossover #fanfic ? pic.twitter.com/tPOZEntGd5

— Claire Parnell (@cparnell_c) June 18, 2017
Kat's note: Claire, Rudi, Jodi, Danielle and I are participating in a Dawson's Creek watchalong on Twitter every Tuesday night. We watch 2 episode per week, the first at 7.30pm AEST and the second at 8.30pm AEST. We are currently on season 2. Check the hashtag #paceyscreek.